Special offers from LIELISKA DAVANA in March, 2019:
-69% SPA ritual "Spring allurement"
Spring is no longer behind the mountains! SPA ritual will allow you to regain strength, enjoy ful relaxation and peace and feel the magic of spring booming flowers. The offer includes: deep skin cleansing procedure with lilac extract scrub; full body mask and wrap; relaxing full body massage; after the ritual – a cup of delicious tea. The offer is for 1 person.
-54% Visit to the SPA thermal area with bath ritual
SPA Riverside is a place where one can relax and regain energy after an eventful day in the city, restore harmony to your body and soul! The offer includes: 2.5 hours visit to the SPA thermal area (swimming pool, jacuzzi, Hammam sauna, herbal sauna, and a visit to the cedar steam bath); 15 min. individual swatting with switches; towel. The offer is for 1 or 2 people.
-20% Flight with motodeltaplan from water + photo/video
Explore Riga from a bird's point of view, feel the clouds beneath your feet and enjoy unforgettable emotions in an exciting adventure! Flight can be captured in photos or HD video. You just need to take your micro SD card with you. The offer is for 1 person.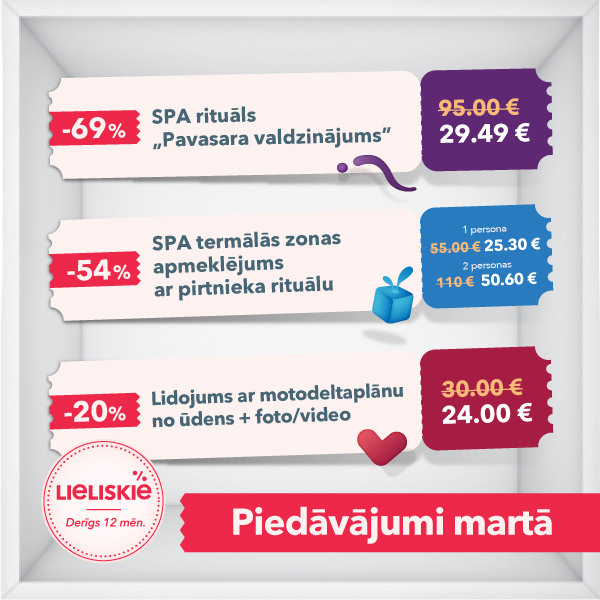 To the shop section