Great % - the best and most profitable discount offers of the month from the gift card and set expert  "Lieliska dāvana"!
• Vitamin C for the entire body - Blackcurrant SPA
The juicy, brisk blackcurrant creates an influx of energy and recharges the body and spirit. Offer includes: All-body massage with aromatic blackcurrant lotion; Warm wrapping in vitamin-enhancing blackcurrant berry lotion; Relaxing foot massage.
1 person /70 min/ 72 EUR - 56% = 31,50 EUR
· An exciting flight with a paraplan in tandem with an instructor
If you want to see land from a birds flight, discover a new dimension to your senses, then this offer is for you. Go on a breathtaking flight with a paraplan, feel the freedom and enjoy the adorable landscape! Flight will be assisted with a qualified instructor.
1 person /10 min/ 40 EUR - 25% = 30 EUR
• Photo session in "Clover" studio
Capture the best moments of your life in photos! Choose a photo session type - individual, family or couple and get adorable photos! Offer includes: Up to 50 photographs; 10 photographs with special edits.
1 -5 persons /60 min/ 50 EUR - 50% = 25 EUR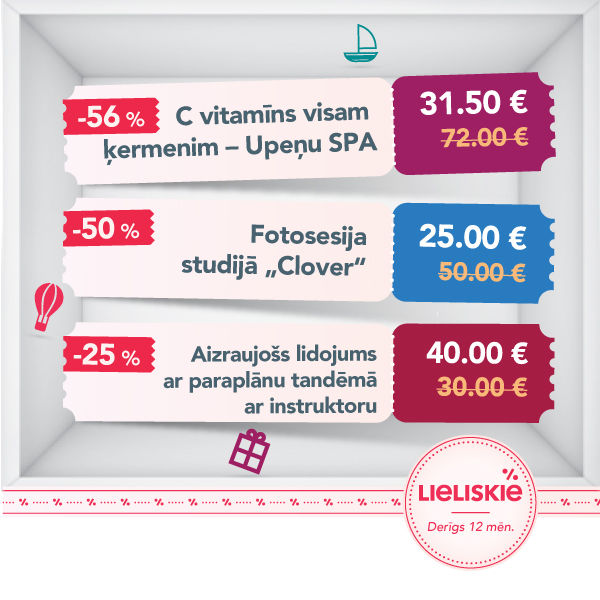 Offers available from 1.01. - 31.01.2020. Discounts and special offers don't combine.
To the shop section