Lieliskie% - the best and most profitable discount offers of the month from gift card and set expert  "Lieliska dāvana". 
February specials: 
• "Padel" tennis game with coach assistance
The chance to learn something new, relax and have fun with friends also to start an active lifestyle. In the hour-and-a-half lesson, the coach will tell you about the rules and techniques of the game. Offer includes - the lease of the court, the lesson with the coach, the inventory.
1 - 4 people /1 h 30 min/ 50 EUR - 60% = 20 EUR
• Confectionery masterclass for couples
Offered by the Gastronomy Institute - a symphony of flavors and colors. A fun and romantic adventure in which you will learn how to make a variety of sweet goods under the control of an experienced chef. You'll have a great time and a sweet-loving aftertaste!
2 persons / 3 hours / 60 EUR - 30% = 42 EUR
• Couple SPA ritual "Heat of Love"
Relaxation and romance, just for you two! Relax and indulge in the charming scents, listening to peaceful and calming music. Offer includes - relaxing full-body massage for two persons, hot stone massage, aromatherapy, after the procedure aromatic tea.
2 people / 1 hour / 100 EUR - 45% = 55 EUR
Offers available from 1.02. - 29.02.2020. Discounts and special offers don't combine.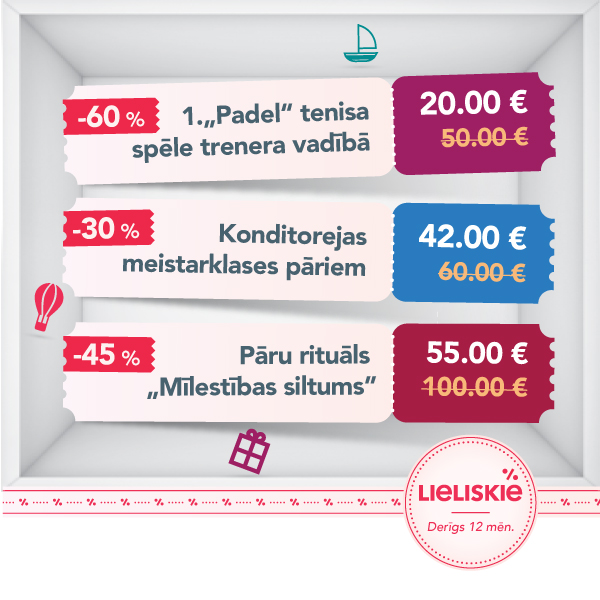 To the shop section